I'm the person who is not very patient also prefer fast life, but in this plan to me not to be compared in any way to Kazuhiko Nagata by nickname Smoky. This person not begins to wait, while leading motor-car manufacturers of the world release new model, and prefers to take all in the his skillful hands and tune them up to the maximum. The most part of last decade Nagata was engaged in that created true treasures within the precincts of the garage Top Secret Performance. Exactly two years ago, in 2005, Skyline CV35 from Top Secret debuted on the Tokyo showroom. The car has been equipped by "eight" VK45 Twin Turbo from Nissan Cima. Well, it would be necessary for Nagata to wait for release of following generation Skyline GT-R. At that time he even thought of "implanting" to the car all-wheel drive system. On the Tokyo showroom of 2007 Nagata showed the newest concept – golden Toyota Supra. Certainly, gold Supra from Top Secret team already had time to become familiar to us, but this feature – something especial. A secret – in a unique stuffing that is covered under a cowl: engine V-12 twin-turbo. Such Kazuhiko Nagata sees following generation cult Japanese a super car.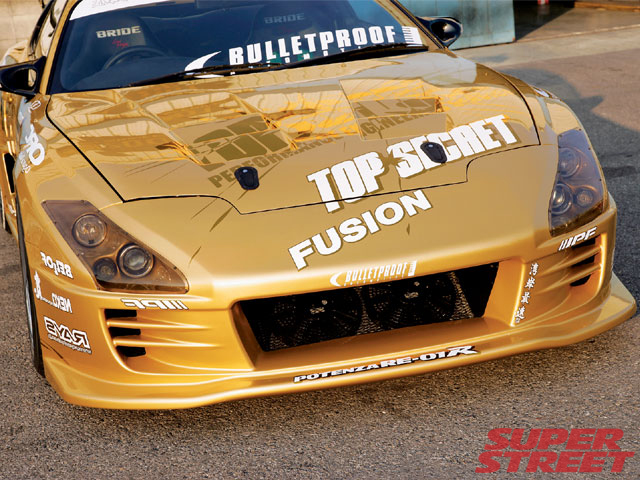 On a twist of fate, Toyota company presented concept FT-HS approximately at the same time when new child Top Secret was exposed on a showroom in Detroit. This concept can serve as a hint that Toyota prepares as new generation Supra or its replacement. However it is obvious that Toyota went a little some other way, than Top Secret, – FT-HS it is equipped by 3,5-litre hybrid engine V-6 capacity of 400 h.p.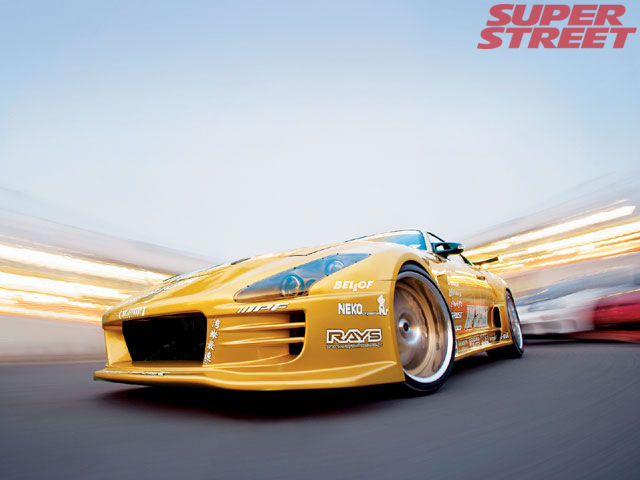 Everything that is hybrid in Supra from Top Secret, is how Nagata is masterful pushed into it V-12. This engine on length same, as stock 2JZ-GTE, only with 12 cylinders located in V-shaped form. Now still add two turbines with all necessary tubes and we are set. In any magic image, it was possible to find room, but it was tough.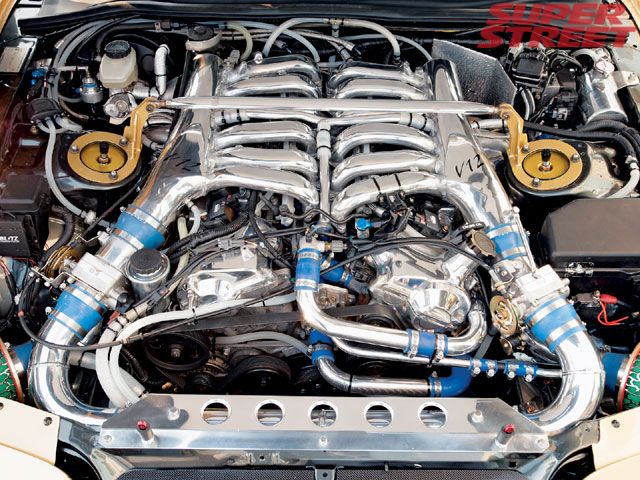 The history of getting of the donor motor impresses also. This motor it is standardly equipped with Toyota Century – a high quality sedan exhausted only in Japan in cost of 90 thousand dollars. In stock version to a complete set 5-litre 1GZ-FE it is capable to show capacity only in 276 h.p. of Nagata added two turbines GT2540 from HKS and exclusive intake manifold Top Secret with two cases of throttle valves on 80 mm. The only thing at the expense of what the narrowness in an impellent compartment has been somehow compensated, is a re-deployment of system of cooling.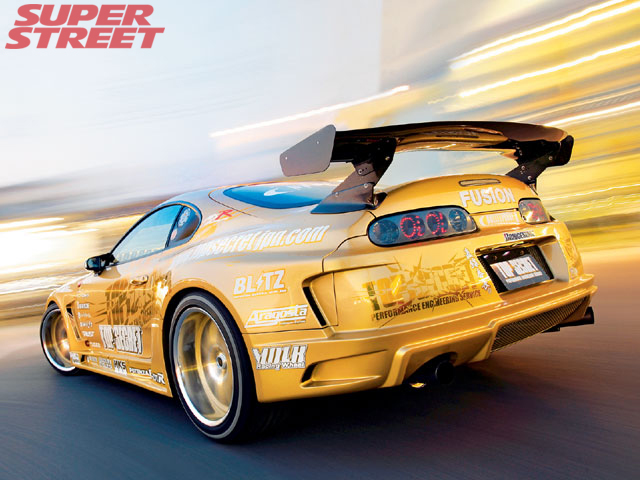 Intercooler ARC has been pressed to a front bumper to release space for V-12, however for radiator ARC of a place any more does not remain, therefore it placed in a luggage compartment where the massive gasoline tank also settled down. From rear side windows glasses have been cleaned, and through them tubes to a radiator with two fans which suck in remained hot air through a bore in a rear bumper have been spent. Naturally, for joint serial 6-step gear box JZA80 Getrag with huge 1GZ very good clutch was necessary. According to Nagata, is better clutch ORC and differential Cusco 1.5 way LSD approach.
For Nagata it is necessary to produce with own hand interiors for V-12 to reach the planned purpose – 1000 h.p. Why so much? That is why that as our hero considers, such capacity is necessary that the arrow of a speedometer of the car reached at last mark of 400 km/h. No, I not itself thought up it. With this car Nagata decided to leave behind the Skyline CV35 which best result made 341 km/h. But one capacity here you will not manage, ideal aerodynamics is necessary.
Besides "adult" tuning and impressive motors, team of Top Secret is known for the big and beautiful aero-weather-cloths. Each of their weather-cloths is created counting upon good clamping force that does the car steady enough on the big speeds, but, on the other hand, thus does not allow to it to be dispersed too strongly. Such compromise is applied at creation of aerowhales to leader racers of the world, for example, for races Super GT in Japan. However, such rigid, angular forms not to liking, to it is closer to "smooth" silhouettes. Its philosophy is opened completely by weather-cloth Super G-Force Wangan from Top Secret.
Lines 33-millimetric front and 50-millimetric rear fenders perfectly joined the general silhouette of the car, only rear wing Top Secret is a little backed out from an image. Especially it would be desirable to note front optics which also is a part of whale Super G-Force Wangan. It is pleasant to Someone, to someone is not present, but all agree that these new eyes gave Supra very futuristic conceptual kind.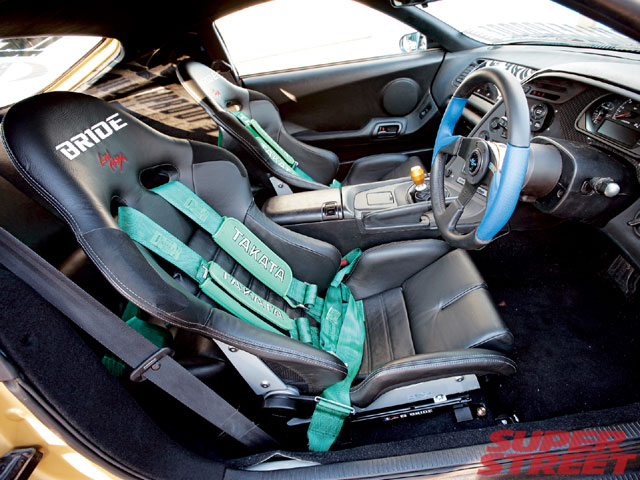 In the rest, Supra has been completed by the standard equipment from Top Secret, leather seats Bride Gias with belts Takata, wheel Top Secret and devices Defi Super Sports Cluster. Brakes – from GREX, racks in gathering – from Top Secret with absorbers Roberuta Cup kit with possibility of regulation of a ground clearance without leaving a cabin. New tires for Supra – 19-inch tire covers Bridgestone Potenza RE050A (favorite rubber of Nagata) and disks Volk GT-F which Top Secret painted in golden color.
The total cost of the turned out car is estimated approximately in a half-million dollars, however Kazuhiko Nagata is not assured that would began to sell it, and even doubts that would make one more same if the order arrived. But, in our opinion, there is only one customer who should think of acquisition of this car – namely, Toyota companies.
Toyota Supra V-12 Twin Turbo Technical Characteristics
Top Speed: 249 mph (400 km/h)
Capacity: (in the project) over 1000 h.p. at 5500 RPM
Under the hood: the 5-litre engine 1GZ-FE; turbine GT2540 (2 pieces), HKS blow-off valve (2 pieces) and wastegate (2 pieces); Top Secret custom intake plenum with twin 80mm throttle bodies; ARC intercooler, radiator (with custom rear mount).
Drive Train: JZA80 Getrag transmission; differential Cusco 1.5 way LSD; clutch ORC
Brain: Top Secret coilovers with Roberuta Cup kit
Wheels: Volk Racing GT-F of 19 inches; tires Bridgestone Potenza RE050A 245/35R19 in front and 275/40R19 behind
Brakes: GReddy GREX: in front 8-piston on 380 mm, behind 4-piston on 350 mm
Exterior: Top Secret Super G-Force Wangan widebody kit (includes front and rear bumpers, side steps, 33mm front and 50mm rear wide fenders, HID headlight housings with IPF lights).
This car is not a serial model so we don't include that one to our top lists.