For certain it will be impossible to find the person who in 2003 would challenge that fact that McLaren F1 of 1994 is one of the fastest and unique cars in the world.
10 years ago this model was not equal in speed from all known world auto concerns. At that time from Ferrari went a lot of criticism connected by that they already have the samples, capable to compete in speed with this giant of speed. Still, more than 372 kilometers per hour are the shouting figure confirming genius of engineers of the company.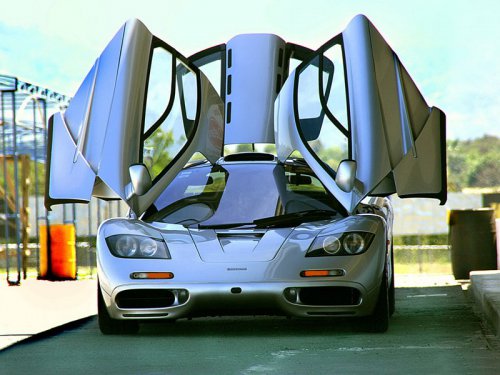 The author of model is Gordon Murray known as the designer of cars for races of Grand Prix. It equipped the McLaren 12-cylinder V-shaped 48-klapannym with the engine in volume in 6.1 liters and capacity in mad 627 horsepowers. Acceleration time with 0 to 98 kilometers per hour makes 3.2 seconds. The surprising fact: the car weighs only 1100 kg! Such genius has been reached by application carbon plastic and the special light-metal alloys more often used in aircraft engineering.
Developers of this model refused at once a turbo-supercharging and decided to compensate it explosive responsiveness of a pedal of an accelerator under any conditions of driving and volume of the engine over 6 liters. Moreover, the engine has the central arrangement and is closely connected with a suspender executed on exclusive technology of the company.
This communication made of the McLaren – the rocket on wheels. The given car repeatedly took part in the various racing championships, and in 1995 it even managed to win the race well-known the 24-sentry in Le Mans. The central arrangement of driver's sitting in aggregate with magnificent interior do the car not only fast, but also simply smart both outside, and inside. Authors McLaren F1 from the very beginning had a purpose – to become by the fastest car of mass production on a planet. It was possible to them! Yes, its record held on not for long and has been beaten repeatedly, but it all the same is reputable also for attention.
The car was issued up to 1998, and after has been replaced by more advanced model under the similar name. Model 1994 often appeared on covers of known automobile magazines, at exhibitions and certainly races where won hearts of millions fans of mark worldwide. One and best creations of a stable the McLaren according to critics.
McLaren F1 — super car which is one of the fastest serial cars in the world (kept this status with 1993 for 2005), resolved to use on public roads there is. Has been designed and made by company McLaren Automotive which is branch British McLaren Group which also owns Vodafone the McLaren Mercedes — a team of the Formula 1. For today is the fastest car with the atmospheric engine for movement on public roads.