After two years' "silence" on the New York automobile shows in April, 2012 premier display of the Viper supercar of the fifth generation which received SRT badge instead of Dodge took place. Despite familiar outlines and the engine, a compartment not is simply becoming more powerful, but also is more comfortable, more technologically and more obediently than the predecessor. In the second half of 2014 Americans slightly updated model, having returned it the former name Dodge Viper SRT, is sensitive having increased engine power and having added: new options, options of finishing of an interior and body color. Dodge Viper SRT Phase I VX Aggressive registration of a body of Viper of the fifth generation – explicit heritage of original model, why the car is absolutely recognized even among one thousand other supercars.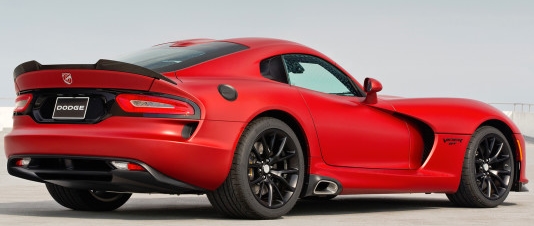 Dodge Viper SRT Phase I VX the Boundless cowl, a large air inlet in a bumper separated by a corporate cross hairs, the cabin shifted back with "humps" on a roof, a side exhaust and a lean stern – looks a two-door powerfully and impressively. Dodge Viper SRT (the 5th generation) of the Present to appearance add "snake eyes headlights" with LED eyeliners of running fires, the elegant tail lamps and beautiful disks of wheels which are standardly dressed in different-sized tires by a standard size of 295/30 R18 and 335/30 R19 in front and behind respectively. Dodge Vayper SRT (the 5th generation) the "Fifth" Dodge Viper represents the two-door sporty coupe with the following sizes of a body: 4463 mm in length, 1941 mm in width and 1246 mm in height. The wheel base at the American supercar keeps within 2510 mm, and its minimum road gleam totals 127 mm.
The interior of "Viper" for the first time for long-term history corresponds to a high rank of the car – it is not simply beautiful and modern is issued, but also cut out from high-quality materials. Directly at a "corpulent" multifunctional wheel with the cut-off heel the 7-inch color display of the instrument panel with analog indexes is based on each side. The very broad transmission tunnel separating salon into two cockpits passes into the stylish console with 8.4-inch "TV" and the block of climatic installation. the interior of Dodge Viper SRT Phase I VX By default the car is completed with the deep "ladles" from a Kevlar which are densely surrounding bodies of the driver and the passenger with sufficient ranges of adjustments. the luggage carrier of Viper SRT Phase I VX In addition to it the supercar differs in a quite good practicality, on extremely measure, for the class – at the rear there is a luggage compartment of 415 liters.
Technical characteristics
Under the long cowl of Dodge Viper of the fifth generation the atmospheric gasoline engine with ten V-shapedly located cylinders, an aluminum structure and sequential fuel injection is covered. The working volume of the engine makes 8.4 liters (8390 cubic centimeters), and its peak return reaches 654 "horses" at 6200 about / minute and 814 Nanometers of the torsion torque realized with 5000 about / minute. under a cowl of Dodge Viper GTS VX the 6-speed "manual" Tremec TR6060 gearbox and differential of limited friction of GKN ViscoLock which broadcast draft in full on wheels of a rear axle Is combined with it. "The fifth Viper" is the real supercar with the corresponding high-speed characteristics. To first "one hundred" "American" darts off in only 3.5 seconds, and his limit opportunities are limited on a mark of 330 km/h.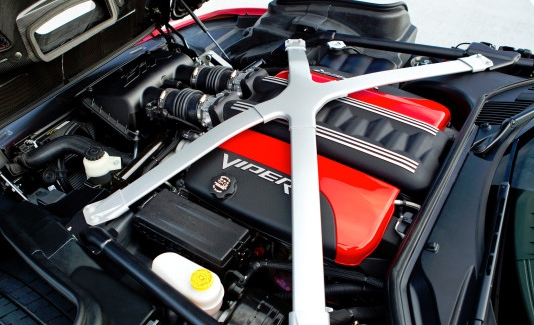 The official consumption of gasoline on the highway is declared at the level of 11.8 liters on each 100 km of a way. At the heart of the American two-door there is a space roll bar which is completely executed their high-strength grades of steel. In body arrangement it is abundant magnesian and aluminum alloys, and a cowl are applied, the boot lid and a roof are executed from a coal plastic therefore the weight of the basic version makes 1521 kg (axes almost ideal: on a front presses 49.6% of weight, on a back – 50.4%). the fifth Viper's design the Dodge Viper SRT Suspender of the fifth generation is collected on aluminum lower and upper arms of an A-shaped form both in front, and behind.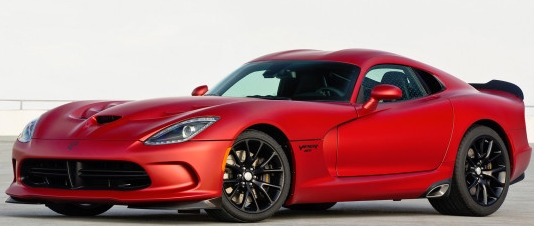 By default the car is completed with shock-absorbers of the fixed rigidity, but electronically controlled racks with two modes of behavior rely "top" execution of GTS. Steering system on "American" standard – with a traditional rail and the hydraulic booster of management.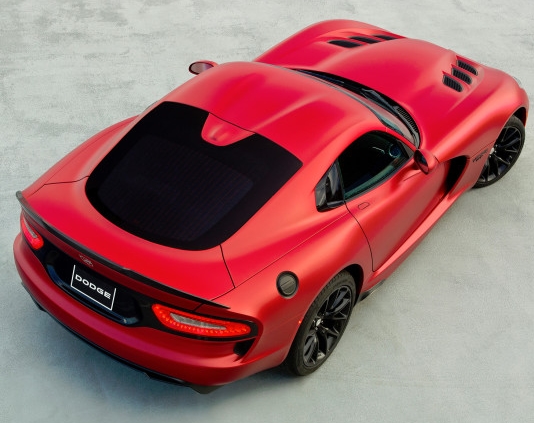 The brake complex is based on the 355-millimetric ventilated disks "around" with 4-piston supports of Brembo which are added with four-channel ABS system. In "base" the two-door "sports" a stabilization system with two modes of functioning, and here at GTS of modes of behavior already four. In addition, there is in a ruler of Viper's and more extreme modification carrying the name ACR (American Club Racing).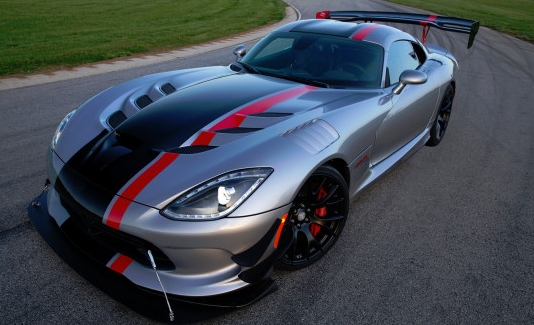 The compartment is equipped with the same motor, as standard option, but differs from it in a "racing" weather-cloth with a mass of aerodynamic elements, among which and a huge back rear wing. Dodge Viper ACR (Phase I VX) Such car is equipped with the adaptive suspender with adjustable shock-absorbers and special springs, and also carbon ceramic brakes with 391-millimetric disks and six-piston supports of Brembo.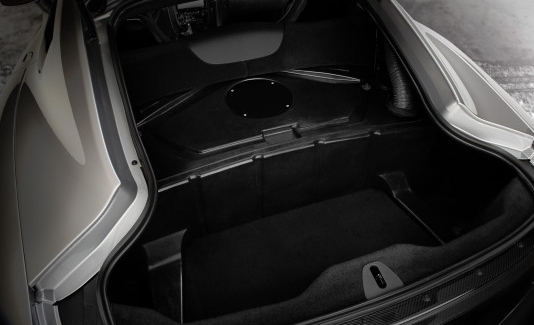 In the USA the basic supercar costs from 89 090 dollars, the GTS version – from 107 995 dollars, and extreme ACR – from 117 895 dollars. In a standard complete set "American" is equipped: two airbags, zone climatic installation, multimedia complex, traction-control, ABS, ESC, bi-xenon head optics, analog and digital tools, factory audio system and other modern "counters".