Fourth generation of the "charged" Porsche Boxster S version which received the 718 index to the name for the first time seemed to public at the end of January, 2016, and his world debut will pass in March on motor show in Geneva. The new roadster with intro factory marking "982" in comparison with the predecessor got the freshened-up appearances and saloon furniture, the modernized technical "stuffing" and new opposite "turbo fourth".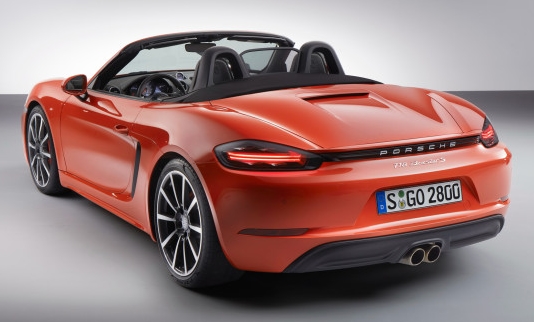 Appearance of Porsche 718 Boxster with a letter of "S" radiates beauty and an expression, and from what party do not look, the car energetically, brightly looks and in a sports way is sure. It is not simple to identify 7th against basic model at all – differences between them consist only in "double-barreled gun" of the final system integrated into a rear bumper and standard wheels of 19 inches.
Technical Characteristics
Porsches 718 Boxster S (982) the body Sizes at the "charged" 718 Boxster are almost identical to that on a normal roadster: width – 4379 mm, height – 1280 mm, width – 1801 mm at the base of wheels numbering 2475 mm. The equipped mass of a two-door makes from 1355 to 1385 kg. the interior of salon 718 Boxster S In Porsche 718 Boxster S is not allocated against "the civil colleague" at all – the accurate and effective design executed in "family" style of brand, perfect ergonomics, intuitively clear management of the main functions and the relief front seats giving to furniture a sports spirit. In front and back parts of a roadster two small baggage compartments with a capacity of 150 and 125 liters respectively are placed. Technical characteristics. Highlight – the 2.5 liters petrol opposite four-cylinder unit (2497 cubic centimeters) equipped with a turbocharger with changeable geometry, direct fuel injection and the lubrication system with the dry crankcase which return makes 350 "mares" at 6500 about / minute and 420 Nanometers of peak draft at 1900-4500 about / minute. 6-speed mechanical transmission or 7-band PDK, and also the rear wheel drive are combined with it.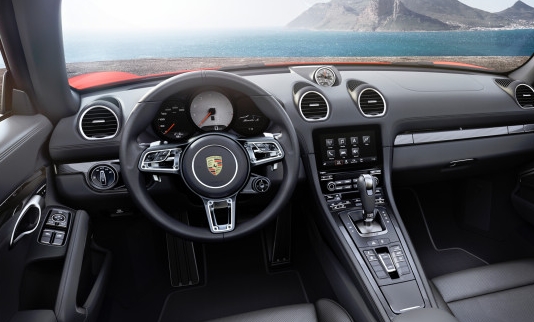 Turbocharged engine accelerates Porsche 718 Boxster S from a 0 to first "one hundred" on the expiration of 4.4-4.6 seconds and to maximum in 285 km/h, on average "eating" from 7.3 to 8.1 liters of gasoline in the mixed movement mode. In the constructive plan of "ESQ" repeats the basic Boxster version of the fourth generation – independent racks of McPherson with antiroll bars "around", the unit body executed from an alloy of aluminum and high-strength steel, the steering gear with variable characteristics and the electromechanical amplifier, and also perforated disks with ventilation on all wheels.